How do I add a new App in Launchpad?
In Launchpad, Apps are used to navigate users to web content. When a student clicks on an App in their View tab, they will be directed to the website or internet content assigned to it (i.e. the web link or URL assigned to that App within the App "Link" settings).
Keep reading to learn more about Launchpad Apps and learn how to create one for yourself.
Wherever you see the + symbol, this indicates the ability to add a new App. Simply click on the + and an "Add application" form will appear: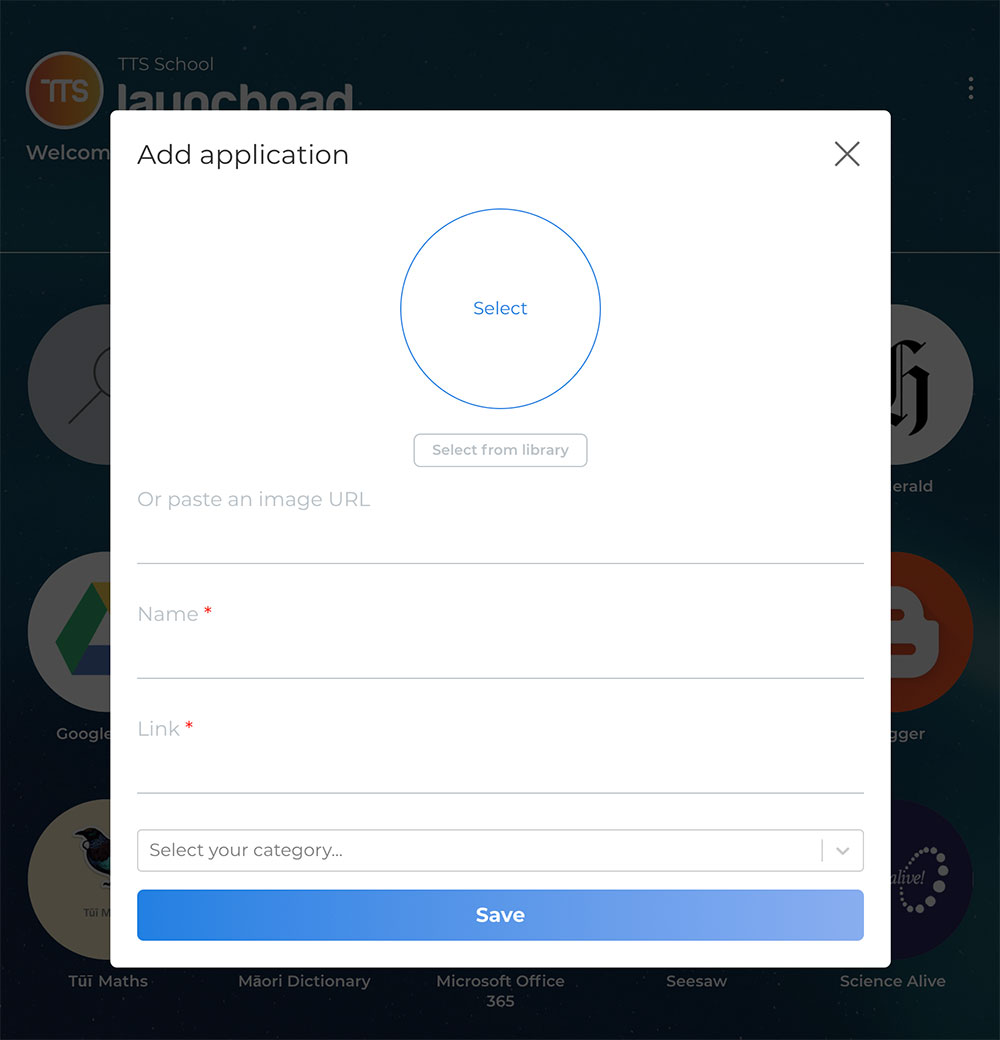 Once the "Add application" form appears, please enter data into the following fields:
App Icon

: The App Icon (or image) should represent the app content to make it easy to identify when shown in user's View. You can choose the app icon (or image) in one of three ways: click Select to upload an icon or image from your user device, click select from library to choose an icon from an existing library of icons, and or paste an image URL to use an icon (or image) from the internet using the image web address.
Name: This represents the name or description that will appear below the App in the view.

Link

: Enter the URL destination for this app. You can either copy and paste the URL directly from a browser or enter it manually. This link will determine the website that the user will navigate to when they click on the App in their View. To copy and paste the URL directly from the browser, open the website required and copy and paste the link to ensure the correct URL is added.
Select your category: This select provides a categorisation of the activity resulting from clicking on the App in the view. Select the appropriate Category for the content of the Link provided.

Save

: Click save to create the new App and have it display in the appropriate View.
---
Still have questions? Our team can help. Get in touch.
Share: https://help.tts.co.nz/test/Blog41/Adding-a-New-App
Share Category "Tips for Administrators":
https://help.tts.co.nz/test/BlogCategory9/Tips-for-Administrators
Share Category "Tips for Students":
https://help.tts.co.nz/test/BlogCategory7/Tips-for-Students
Share Category "Tips for Teachers":
https://help.tts.co.nz/test/BlogCategory11/Tips-for-Teachers