Editing or Deleting an App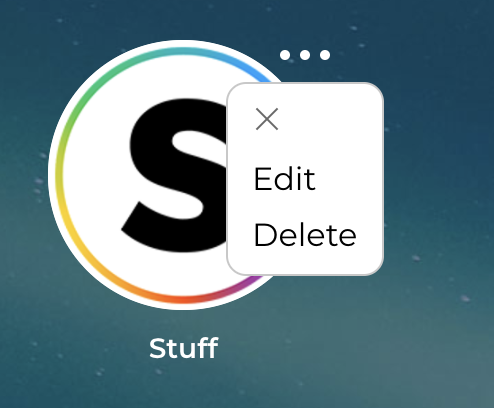 When a user hovers over an App they are allowed to Edit or Delete, "…" will appear above the right top edge of the App.
By selecting the "…", the Edit / Delete options will appear. Select the appropriate option required:
Delete will delete the App.
Edit will pop up an Edit modal that will allow the user to change the Name, URL and reset the Image as required. The Icon (or image) url, although blank, is stored already just not displayed to avoid corruption of the image path.
Please note, the ability to edit or delete an App (represented by the "…") only appears if the user created the App. Apps created by others cannot be deleted by the user and will not display the "…".
---
Still have questions? Our team can help. Get in touch.
Share: https://help.tts.co.nz/index/Blog46/Editing-or-Deleting-an-App
Share Category "Tips for Administrators":
https://help.tts.co.nz/index/BlogCategory9/Tips-for-Administrators
Share Category "Tips for Students":
https://help.tts.co.nz/index/BlogCategory7/Tips-for-Students
Share Category "Tips for Teachers":
https://help.tts.co.nz/index/BlogCategory11/Tips-for-Teachers